Here at hazel, Music Monday playlists have given our team members an amazing opportunity to share not only our own personal music preferences but also feature upcoming small artists from all types of genres. In order to give a special spotlight to specific artists that we have found throughout creating these playlists, we are introducing a new segment called Editor's Music Roundup, where each member of our team goes into depth about an artist or band. Our aim is that readers, like you, may add some of these emerging artists to their own playlists!
---
Danie Klein: No Frills Twins
Twins Arna and Vanessa Rogers of the No Frills Twins are an electro-pop duo that focuses on gorgeous vocals and emotive songwriting. Their career began in 2012 when these Australian twins launched a YouTube channel that quickly gained thousands of subscribers. Their YouTube coupled with winning third place in Ryan Seacrest's international best cover reach of Iggy Azalea's "Fancy" propelled the twins into stardom. Their fans completed their "Our First Album" Kickstarter in 2014 helping them record their first album titled God Bless the Internet. The twins see their fashion and aesthetic choices as an extension of their creative experimentation. As artists, constantly changing and adapting is a major part of their creative process. In 2020, the No Frills Twins released two singles titled "Paper Love" and "Big Heart."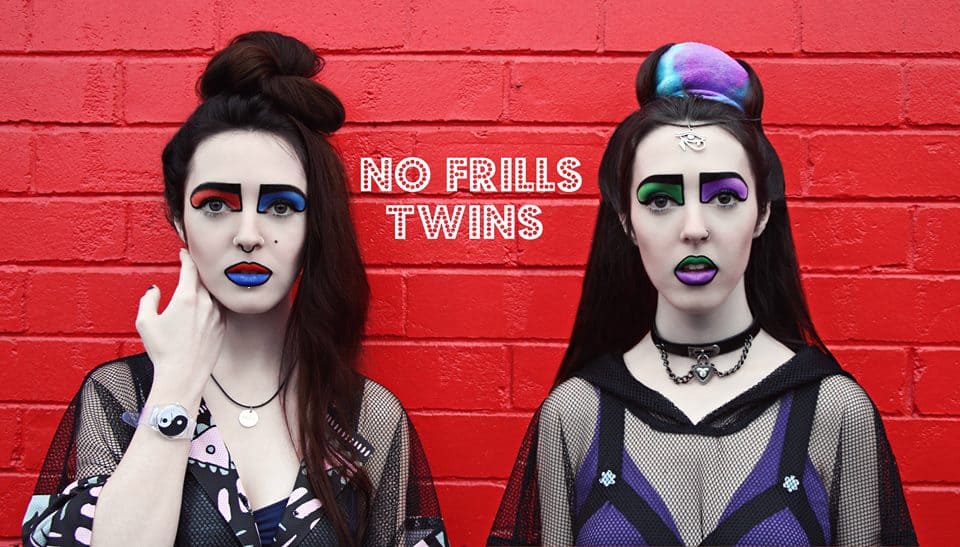 ---
Carley: Fade Em All
Fade Em All is a punk rock band from Houston, TX but has been recognized in AFROPUNK Brooklyn Battle of the Bands Finals back in August 2019 as a finalist. The band consists of four members, Isaiah Rusk (lead singer), Canyon Scott (bassist), Oscar Santander (guitarist), and Cory Williamson (drummer). Their self-named debut album back in 2018, Fade Em All, is pure electricity. "Leaders" and "The Interview" are my personal favorites, starting off with nostalgic radio excerpts and voice-overs which quickly are overtaken by musical punk rock frustrations. At times, it is reminiscent of the Beastie Boys. Their lyrics are honest and calling, often speaking about the Black experience. Their hope is to "help Black and Brown kids reclaim rock music and inspire new sonic ways" (AFROPUNK). Recently, they released "Acab Freestyle" which could be described as a truth bomb much needed this year and past years amid police brutality and racial injustice. After listening to the American debates, we all need to blast this song on repeat.
---
Dylan: Madi Sipes & The Painted Blue
Madi Sipes & The Painted Blue has been one of my favorite groups from this summer and I featured their songs on Music Monday #12. They're a band from Sacramento, CA fronted by female singer-songwriter and guitarist Madi Sipes. Their music is gutsy and Sipes is an incredibly compelling vocalist. Sipes carefully balances moody guitar pieces with bright tones and synth, creating songs that gently pull back and forth. On first listen, some of their work can be heavy in both subject matter and tone, but there's an odd optimism in their lyrics that undercuts the moodiness. Their take on indie pop and R&B is worth checking out, if you're a fan of Frank Ocean or Billy Holiday you'll probably find something you like.
---
Justin: HUMMICIDE
Recently I have been inspired to try and incorporate more instrumental tracks into my listening repertoire which inevitably lead me to the four-piece rock-jazz group HUMMICIDE. Looking for something with a little swing, a tad kicky in the percussion, but also mellow enough to toss on in the back for a night in with that special someone or even a work session then this group will tick all those boxes for you. Swirling together the sax, bass, keyboard, and drums, this group will have you slowly nodding along one minute to straight bopping the next. At the moment, they only have two singles and a four-track EP to their name, but if you are really crunched for time, I would highly suggest starting with "8 Mullups." I added this band straight to the follow list and am excited to see what future work they have in store for us, definitely expect to find them on a Music Monday playlist soon.